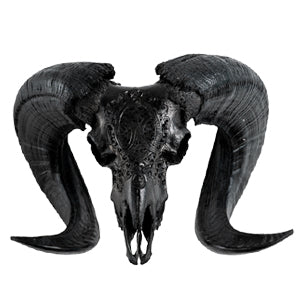 Exclusive Ram Skull Collection for Sale
Our exclusive and beautiful Ram Skull collection is guaranteed to fill you with awe and aspiration. Our Ram skulls collection has a unique touch to them, as each of them are curated by native Balinese artists and therefore capture the true essence of this ancient art form.
We also make sure that our creative procedure is completely ethical and cruelty free. Moreover, we offer the most affordable and fair price ranges for such an intricate piece of art work.
Our mission is to preserve the ancient art form and ensure that with authenticity the art form gets propagated to the masses.
So, get your hands on our exceptional pieces of art and outlive all interior fashion trends.
About our Carved Ram Skulls
Our large and beautiful variety of Carved Ram skulls is incredibly beautiful, with each piece unique in its pattern and design.
We guarantee you excellent quality, 100% authenticity, and reasonable prices.
Our artisans carve intricate, delicate, and beautiful patterns on real Ram skulls with the special knives, drills and blades. This helps in ensuring that the skull is not damaged in any way.
Get your hands on our carved ram skulls to showcase them proudly in your house for a remarkable, striking, and attractive outlook.
Real Skulls
Whether it is about the locals working for us, the technique we use, or the skulls used as our canvas, we pride ourselves in working with everything that portrays the real spirit of skull carving.
The carved ram skulls at Skull Savvy, like all our other animal skulls, are 100% real and belong to an actual animal. We obtain these skulls from animals who have lived a full life and have been treated well.The skull, then under goes the process for preserving and tampering to make sure that designing can be done in the smoothest possible way.
These skulls are of animals who have died because of age or other naturally-occurring causes. Moreover, each skull comes with real, amazing horns that will add more beauty and natural feel to this piece of art.
While shipping, the horns are detached and packed separately to ensure that they reach you without any damage.
Craftsmanship
The craftsmanship that is portrayed in our Ram skulls and other animal skulls speaks for itself. The skull carving craft originates from Bali, and nobody else can match their expertise and artistry in this form of art.
A typical Balinese Master Carver spends around a decade to gain command over this skill, and nobody around the world can compare to their work.
This is the reason why we decided to collaborate with local Balinese craftsmen to create these beautiful skulls.
A plain-looking Ram skull was transformed into an outstanding and beautiful artifact by these skilled craftsmen in just a couple of days.
Wall Mount Decoration
We have an extensive and remarkable range of Ram skulls and other animal skulls that will give your walls a revamped look when used as a wall mount decoration.
The skulls can be mounted on any surface, be it interior or exterior walls. They can be also placed on consoles and cabinets to add an exquisite charm.
We provide these pieces with a strong structure and proper hanging space at the back so that you can mount it up easily after receiving it.
Lamps
Apart from wall mount decorations and centerpieces, you can also look into our large collection of Ram Skull lamps.
At Skull Savvy, we offer a wide range of skull lamps that will give your room an enchanted and beautifully-illuminated outlook.
With warm light peeking through the intricate pattern carved on the skull along with its casting shadows, these skull lamps are guaranteed to make you feel relaxed and peaceful.
The lamps contain a switch that helps you adjust the intensity of the light according to your own needs. The lamps come with a fixture holder, that allows space to hold the light bulb.
Bali's Tradition
The Balinese skull carving craft is one of their oldest traditions. The indigenous Bali people treated animals with utmost respect and affection.
They utilized each and every part of a deceased animal from the fur on its skin to its bones. They used to treat its skull as an object of holiness and preserved and showcased it in their houses.
This Balinese tradition has been kept alive till today. The native Balinese artists use these animal skulls as a means of expressing their craft and also to pay tribute to the animal.
This form of art is learned by their master artists in around a decade and is incomparable to any other similar art form.
Amazing Customer Support
Happy and content customers are our primary assets. All our products are supreme in quality, 100% authentic, and reasonably priced.
We strive to offer exceptional artwork that we handpick by working directly with the talented Balinese artists.
We assure you that we strive to bring the original art piece of Bali to your doorstep, anywhere in the world.
Moreover, if you need any more answers or guidance, you can always seek assistance from our helpful team of customer support agents.