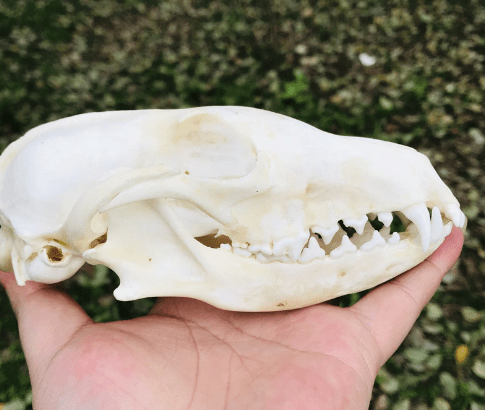 Buy Dog Skull at Skull Savvy
All the dogs, either wild or domestic, are a direct descendant of modern wolves. Dogs are said to be a man's best friend and have been kept as pets and companions for ages.
The earliest domestication of dogs is known to be carried out around 12,000 years ago.
As of today, dogs serve humanity in several ways, including guides, for security, search and rescue, hunting, and companionship.
With the smallest of breeds Chihuahua, to the largest, Irish wolfhound, there are over 400 recognized dog breeds.
We are very well-aware of a human's love for dogs, which is why we provide a large and amazing variety of dog skulls. The skull of a dog, when used for decoration, can give a bold and beautiful look to your space.
If you are in search of dog skulls that are high in quality and robust and are at reasonable prices, then our store, Skull Savvy, is the right destination for you!
About our Dog Skulls
At Skull Savvy, we have a huge collection of Dog Skulls belonging to all the breeds that are loved by you. Our dog skulls are all thoroughly cleaned, preserved, and prepared to be used for decoration.
They can be fixed on the walls or can be used as beautiful decoration pieces. Show your love and affection for this friendly creature by making a place for it in your houses, even after its physical existence on this planet ceases.
Our extensive real dog skull collection has been created without harming any dogs. At Skull Savvy, we are devoted to providing legally and ethically attained real skulls.
All the dog skulls at our store are from those animals who have died a natural death.
K9 Skull
The military dogs that are specifically trained to help the law enforcement departments in carrying out their tasks are called K9 dogs. They are large dogs with a daunting stance.
Some of the most common K9 dog breeds are German shepherd, Rottweiler, Malinois dogs, and many more.
If you are looking for a real K9 skull, then Skull Savvy is the right place. We offer a large variety of K9 skulls belonging to various breeds.
Furthermore, they are of extremely good quality, durable, and well-preserved.
Hound Skull
A hound dog is a kind of hunting dog that is used to assist hunters in order to seek and follow their target.
There are several different types of hound dogs, including Basset hound, Beagle, Greyhound, and many more.
We offer a wide range of dog skulls that also include hound dog skulls. These tough-looking skulls can be used to give a bold and courageous look to your living or working spaces.
Canine Skull
At Skull Savvy, we have a massive assortment of canine skulls. With pointy teeth and sharp structure, these canine skulls will surely give your surroundings a great aura and look.
Don't wait for any further and get your hands on our wonderful variety of canine skulls and give your homes and offices a vibrant and eye-catching environment.
Real domestic dog skull
A domestic dog is a probable descendant from common wolves and has been kept in homes since the ancient era. Domestic dogs have been tamed by humans and kept to cater to various human needs.
There are many different breeds of domestic dogs, and we provide real domestic dog skulls of all breeds, such as Doberman skull, so that we can satisfy all of our customers' requirements.
At Skull Savvy, we offer a large collection of real and salvaged domestic dog skulls for sale. These real domestic dog skulls are great for several purposes, such as decoration, art specimens, and study references.
Our real domestic dog skulls of various dog breeds are high-in-quality and can be shipped all around the globe.
100% Customer Satisfaction
At Skull Savvy, we guarantee you 100% customer satisfaction. Your desired item is delivered straight to your doorstep on time.
As the animal skulls that we deliver are extremely delicate pieces of art, we make sure that they are packed carefully so that it is received by you in perfect shape and ready to put on display.
Moreover, our dedicated team of representatives is always available to guide you in case you need any assistance while making your purchase.
We are always present to support you if you have any queries or problems after making or receiving your orders. Our customers and their happiness is always our top priority!
Explore our stores now and get your hand on our beautiful collection of dog head skeletons and other collectibles to improve the look of your house or office.